Ella Bartlett @ 2019-06-24 15:14:47 -0400

duh-nuh... duh-nuh... duh-nuh, duh-nuh duh-nuh duh-nuh!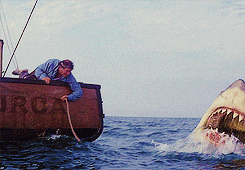 For most, that tune signals a malevolent Great White lurking, ready to wreak havoc on a quaint beach town in New England. Here at Sock Fancy HQ, however, that tune has a happier meaning - Shark Week is back, people!
We're so excited to announce that Sock Fancy has teamed up with Discovery™ to create our 2019 Shark Week Collection. We're offering four brand new styles to sink your teeth into, just in time for television's biggest summer event.
Introducing...
FRENZY. Hammerheads and Tiger Sharks compete for complete domination in this shark-filled frenzy. Watch your toes!
SWARM. The color scheme says "gummy sharks," but the silhouettes say "feeding time." It's sink or swim with these jawsome socks!
NIGHT MODE. The moon rises from behind the horizon. Shark fins slice through the gentle waves... Things seem calm until -- a menacing Great White launches from the water just to remind you that you're on their turf. Beware!
TOOTHY.  This festive shark tooth pattern is all fun and games - until you remember what these puppies were capable when they were in a shark's mouth. 
Limited quantities are available, so don't wait long!
0 comments