Ella Bartlett @ 2019-07-24 10:44:04 -0400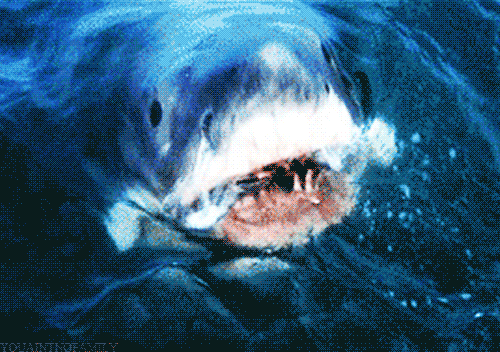 I've got a little bad news, guys... With seven days of jawsome programming and only four pairs of fintastic socks in our 2019 Shark Week Collection, you might have to do a little extra laundry this week.
The good news is that you can prove yourself to be the most dedicated (and fashionable) Shark Week fan amongst your friends by coordinating your sock game with the sharky content that Discovery will be playing all week long.
Follow this guide to know which pair to wear every day this Shark Week.
Sunday, July 28th: Wear TOOTHY.
At 8 sharp, Expedition Unknown: Megalodon explores the mysteries of the 60-ton mega-shark known as the Megalodon. It ruled the world's oceans for over 20 million years, and then suddenly vanished. Watch along with Toothy on your feet as paleontologists use fossilized teeth - the only surviving evidence that the Meg existed at all - to investigate its fall from grace and disappearance altogether.
Monday, July 29th: Wear NIGHT MODE.
On Monday, Legend of Deep Blue will air at 9:00 PM and showcase the search for a shark named Deep Blue, thought to be the largest great white in the world. Be sure to wear Night Mode today to have a teeny tiny scale model of Deep Blue, who is believed to be at least 21 feet long and over 2 and a half tons, jumping up your legs while you tune in.
Tuesday, July 30th: Wear FRENZY.
The perfect pair to wear on Tuesday is Frenzy. This frantic shark pattern mirrors the pandemonium visible in Air Jaws Strikes Back, which starts at 10:00 PM and exhibits a seal vs. shark battleground at the base of a 200 foot cliff. As great whites hunt the seal colony and the seals learn to team up and fight back, be glad that the cotton sharks on your feet are a lot kinder to your toes than they look.
Wednesday, July 31st: Wear SWARM... and do a load of laundry.
Tonight's main event is Capsized: Blood in the Water, which airs at 9:00 PM and tells the true story of a 1982 shark encounter. After a Florida-bound yacht capsizes in the Atlantic, the surviving crew catches the unwanted attention of a menacing group of tiger sharks. Yikes... Swarm's circling shark silhouettes will look downright cute in comparison!
Thursday, August 1st: NIGHT MODE.
Thursday will be your first repeat offender in Night Mode. At 9:00 p.m, you can coordinate your sockgame with Great White Kill Zone: Guadalupe. Guadalupe Island is a hotspot for great whites, who prey upon the abundant seal population in the crystal clear waters. Researchers have long been stumped about why there has never been an attack witnessed there, so tune in to watch what they discover.
Friday, August 2nd: FRENZY.
At 9:00 p.m, Andrew Mayne: Ghost Diver will follow inventor and illusionist Mayne as he attempts to create a first-of-its-kind shark suit that hopefully renders him invisible to great whites. Let's hope he's right, since he's heading straight into the middle of a great white frenzy off the coast of Australia. We'll just stick with our Sock Fancy Frenzy socks, thank you very much.
Saturday, August 3rd: TOOTHY.
To round out the week, be sure to wear Toothy. This style will be the perfect complement to Shark Week Immersion, which airs at 9:00 on the 7th and final night of Shark Week 2019. Popular YouTube channel Rooster Teeth (Teeth, Toothy, get it?) will take some of the most iconic shark moments from pop culture history and turn them into reality.
If you don't have the box already, it's not too late! Shop now, and be sure to tune in to Discovery all week long. 
0 comments